PACIFIC SAILFISH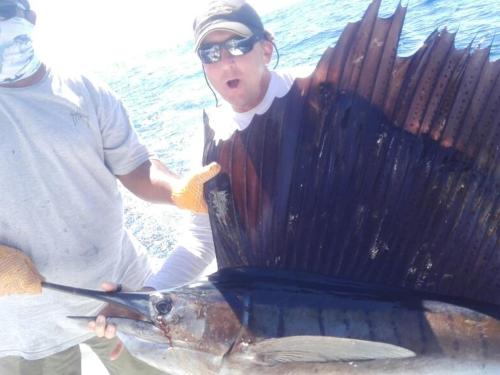 Inhabits tropical and subtropical waters near land masses, usually in depths over 6 fathoms, but occasionally caught in lesser depths and from ocean piers. Pelagic and migratory, sailfish usually travel alone or in small groups. They appear to feed mostly in midwater along the edges of reefs or current eddies. 
Its fighting ability and spectacular aerial acrobatics endear the sailfish to the saltwater angler, but it tires quickly and is considered a light tackle species. Fishing methods include trolling with strip baits, plures, feathers or spoons, as well as live bait fishing and kite fishing. The most action is found where sailfish are located on or near the surface where they feed.
STRIPED OR BLACK MARLIN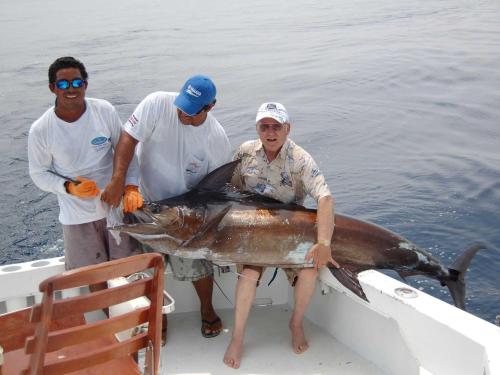 Found in tropical and warm temperate waters of the Indian and Pacific oceans, the striped marlin is pelagic and seasonally migratory, moving toward the equator during the cold season and away again during the warm season.

It is highly predatory, feeding extensively on pilchards, anchovies, mackerel, sauries, flying fish, squid, and whatever is abundant. It is well known for its fighting ability and has the reputation of spending more time in the air than in the water after it is hooked. In addition to long runs and tail walks, it will ?greyhound? across the surface, making up to a dozen or more long, graceful leaps. It can be caught fairly close to shore, and lacking the size and weight of the blue marlin or the black marlin, it is more acrobatically inclined. Fishing methods include trolling whole fish, strip baits, or lures; also live bait fishing.
DOLPHIN FISH OR MAHI-MAHI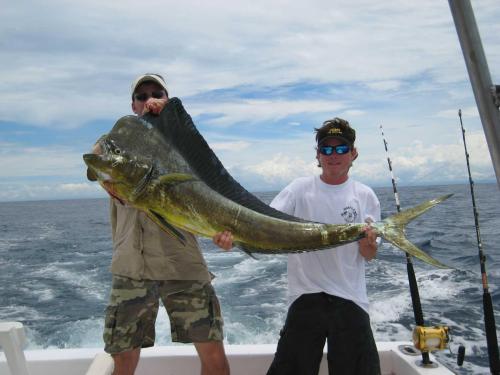 Found worldwide in tropical and warm temperate seas, the dolphinfish is pelagic, schooling, and migratory. Though occasionally caught from an ocean pier, it is basically a deep-water species, inhabiting the surface of the open ocean. The dolphinfish is a distinctive fish, both for its shape and its colors. Though it is among the most colorful fish in the sea, the colors are quite variable and defy an accurate, simple description. Generally, when the fish is alive in the water, the dolphin is rich iridescent blue or blue green dorsally; gold, bluish gold, or silvery gold on the lower flanks; and silvery white or yellow on the belly. The sides are sprinkled with a mixture of dark and light spots, ranging from black or blue to golden. 

Hooked dolphin may leap or tailwalk, darting first in one direction, then another. It is believed that they can reach speeds up to 50 mph (80.5 kph) in short bursts. Successful fishing methods include trolling surface baits (flying fish, mullet, balao, squid, strip baits) or artificial lures; also live bait fishing or casting. If the first dolphin caught is kept in the water, it will usually hold the school, and often others will come near enough to be caught by casting.
 
YELLOWFIN TUNA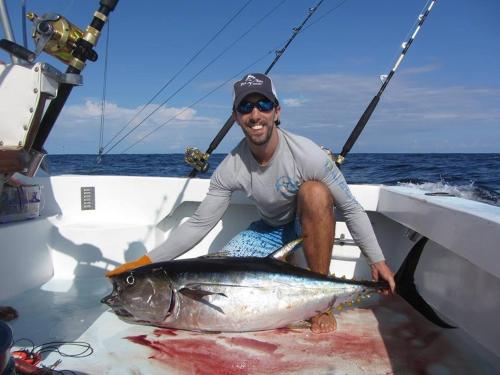 Occurs worldwide in deep, warm temperate oceanic waters. It is both pelagic and seasonally migratory, but has been known to come fairly close to shore.

The diet depends largely on local abundance, and includes flying fish, other small fish, squid and crustaceans. Fishing methods include trolling with small fish, squid, or other trolled baits including strip baits and artificial lures as well as chumming with live bait fishing.

It is highly esteemed both as a sport fish and as table fare. Its flesh is very light compared to that of other tunas, with the exception of the albacore, which has white meat
WAHOO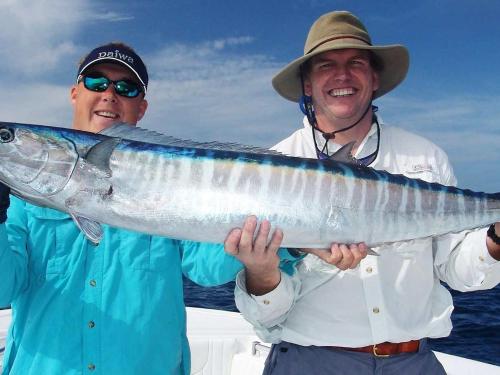 Worldwide in tropical and warm temperate seas. Pelagic and seasonally migratory, it tends to be a loner or travel in small groups of 2 to 6 fish. There are indications of seasonal concentrations off the Pacific coasts of Panama, Costa Rica and Baja California in the summer, off Grand Cayman (Atlantic) in the winter and spring, and off the western Bahamas and Bermuda in the spring and fall.
 
ROOSTERFISH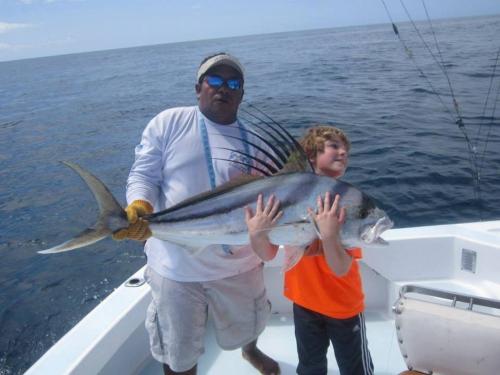 Occurs in the eastern Pacific Ocean from the Gulf of California to Peru. most commonly off Ecuador. An in shore species, it is found in the surf, over sandy bottoms, and in moderate depths. the maximum movement being about 300 miles (483 km).

It is a predator of small fishes. When hooked or in pursuit of prey it will raise its dorsal fin like a flag and leap repeatedly, greyhounding over the surface. Fishing methods are trolling or casting baits and lures, or live bait fishing from a boat or shore.
 
Spanish Mackerel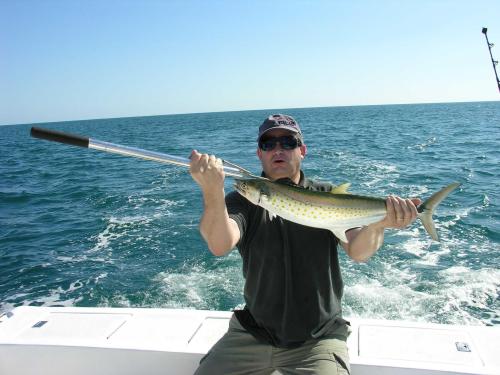 This is an excellent game fish that can be taken on a wide variety of lures and baits. Nylon jigs are considered one of the best lures, especially when retrieved rapidly with an occasional jerk of the rod tip to impact a darting motion to the jig. Feather lures and spoons are also successful, while minnows and live shrimp are the best natural baits. Occasionally almost any lure or bait will work, while at other times, nothing will.

Spanish mackerel are a good food fish and although they are considered large at 10 lb (4.53 kg) some record specimens will grow to more than twice that size.